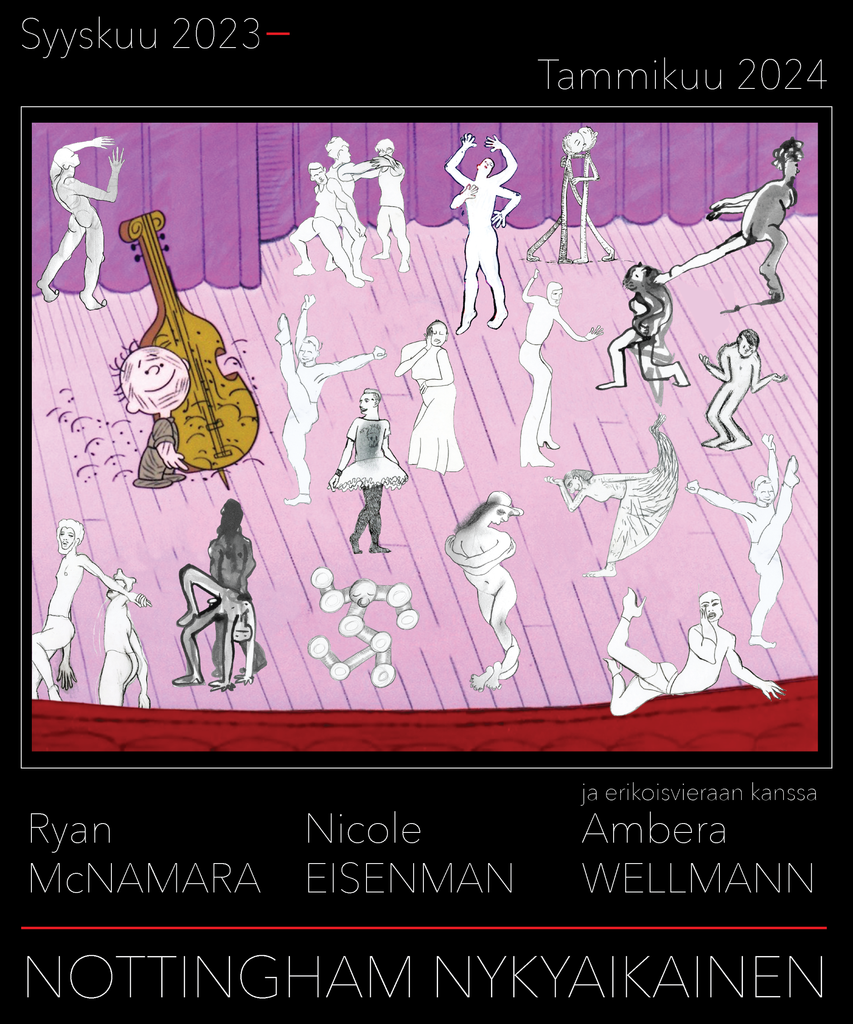 Inkjet print on white silk 200gsm paper
Size: 60.96 x 50.8 cm
Edition of 100, signed by the artists




To coincide with the 2023 artist-curated exhibition by Ridykeulous: Ridykes' Cavern of Fine Inverted Wines and Deviant Videos (2023-24), Nottingham Contemporary have produced a collaborative limited-edition poster by Nicole Eisenman & Ryan McNamara. 

All proceeds raised from the sale of this special work will directly support Nottingham Contemporary, the Ridykeulous exhibition, and the realisation of Anthromotivism (The Study of People Watching People Do Something) (2023).


 
Nicole Eisenman (b. 1965, France, lives and works in Brooklyn) works across painting, drawing, installation, and sculpture. She received the prestigious MacArthur Foundation Fellowship award in 2015. Additionally, she has been awarded the Guggenheim Fellowship (1996), Carnegie Prize (2013), and the Suzanne Deal Booth/FLAG Art Foundation Prize (2018), and was inducted into the American Academy of Arts and Letters in 2018.
Her work has been shown in numerous solo exhibitions, such as Nicole Eisenman: Untitled (show) at Hauser & Wirth, New York (2022); Heads, Kisses, Battles: Nicole Eisenman and the Moderns at Kunsthalle Bielefeld, Bielefeld (2021), which travelled to Aargauer Kunsthaus, Aarau (2022), Foundation Vincent Van Gogh, Arles (2022) and Kunstmuseum Den Haag, Hague (2022); Nicole Eisenman: Giant Without a Body at the Astrup Fearnley Museum of Modern Art, Oslo (2021); and Nicole Eisenman: Sturm und Drang at The Contemporary Austin, Austin (2020). Her work has also been included in the Whitney Biennial in 1995, 2012, and 2019, and the 2019 Venice Biennale, as well as having been acquired by public collections such as the Museum of Modern Art, New York, the Whitney Museum of American Art, New York, and the Tate, London.

Ryan McNamara (b. 1979, Phoenix, Arizona) is a Brooklyn-based artist who is known for blending different practices of dance, theatre, and history in his work. His works are often situation-specific and tend to be collaborative or participatory, creating a social discourse and commenting on participation within artistic production. McNamara has held performances and exhibitions at Elizabeth Dee Gallery, The Watermill Performance Center, Barbara Gladstone Gallery, Lehmann Maupin, The Whitney Museum, MoMA P.S.1, The Kitchen, and in various other locations throughout the world. His work is also in the collection of The Museum of Modern Art.


If you have a question about this or any of our Artists' Editions, please contact the gallery directly here