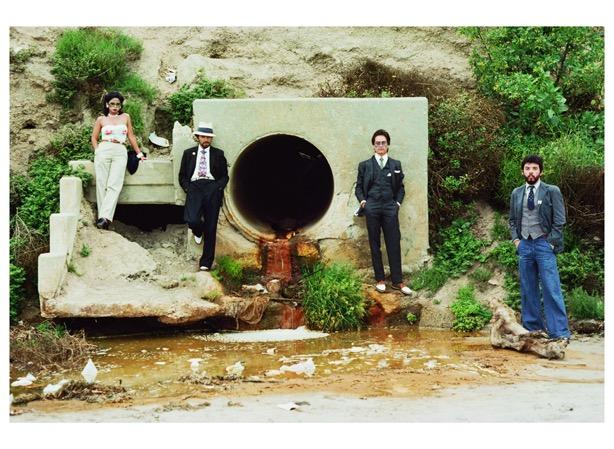 Printed on archival inkjet print on Somerset photosatin 300gsm paper
42 x 59.4cm
Edition of 50
Accompanied by a signed and numbered certificate of authenticity


This edition by Asco was produced by Nottingham Contemporary on the occasion of the exhibition No Movies, 2013.

Asco's artworks move between fashion, rock, gangster, and Hollywood imagery. Although they were only briefly staged, photographs of their actions by Harry Gamboa Jr were then posted to friends, press contacts, and art and cinema professionals. Working outside the gallery and museum system, Asco experimented with different ways of occupying public space and disseminating their work.

In Asshole Mural, 1975, Asco's four core members pose next to the opening of a large concrete drainpipe on a rocky LA hillside, dressed as film stars or dandyish businessman. Asco again combine glamour and disgust, fiction, and reality, in a single memorable image.

All profits raised from the sale of this limited-edition work support Nottingham Contemporary's free programme of exhibitions, educational activities and research programmes.
Asco were formed in the early 1970s by four Chicano artists - Harry Gamboa Jr, Gronk, Willie F. Herrón III and Patssi Valdez - who met in high school in East LA, the centre of Los Angeles's Mexican American community. They emerged from the Chicano civil rights movement of the late 60s and early 70s, which fought labour exploitation, the Vietnam draft, police brutality, and other forms of discrimination and deprivation.
If you have a question about this or any of our Artists' Editions, please contact the gallery directly here