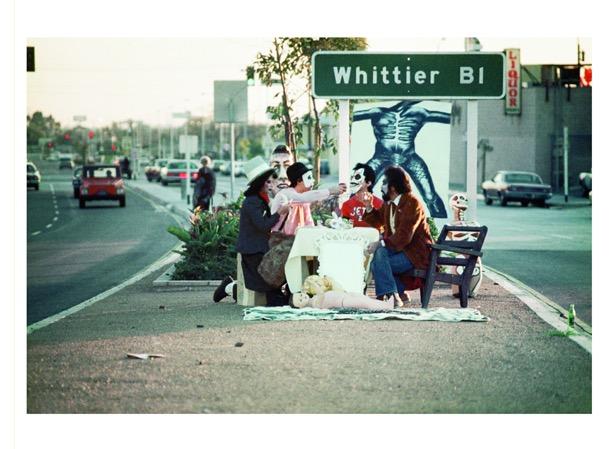 Printed on archival inkjet print on Somerset photosatin 300gsm paper 
42 x 59.4cm
Limited Edition of 50
Accompanied by a signed and numbered certificate of authenticity

This edition by Asco was produced by Nottingham Contemporary on the occasion of the exhibition No Movies, 2013. Violence and civil unrest in East LA inspired a number of Asco's street performances. First Supper (After a Major Riot), 1974, was staged four years after the Chicano Moratorium Committee organised an anti-Vietnam rally that ended with police brutality. Curfews were instigated, and public gatherings forbidden. Patssi Valdez, Gronk, Harry Gamboa Jr, Willie F. Herron III and Humberto Sandoval ate their meal on a traffic island, surrounded by props including a giant baby Jesus. The event took place on Whittier Boulevard, a main road through East LA, where police had opened fire on the crowd four years before. Asco recall passing cars honking their support. All profits raised from the sale of this limited-edition work support Nottingham Contemporary's free programme of exhibitions, educational activities and research programmes.

Asco were formed in the early 1970s by four Chicano artists - Harry Gamboa Jr, Gronk, Willie F. Herrón III and Patssi Valdez - who met in high school in East LA, the centre of Los Angeles's Mexican American community. They emerged from the Chicano civil rights movement of the late 60s and early 70s, which fought labour exploitation, the Vietnam draft, police brutality, and other forms of discrimination and deprivation.